Because the younger generation loves to examine what others have said regarding your restaurant on social networks before actually visiting, social reputation has become a must in today's world. In these situations, if your restaurant lacks a presence on social media and no bloggers are talking about you, you may be losing a significant number of potential consumers and so falling behind your competition. Is that something you can afford? Certainly not!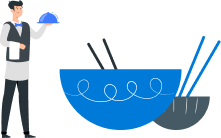 Influencers with more than 100,000 followers should expect to be paid more than those with 5,000 to 25,000 followers. As a result, if you have a limited budget, you can hire a group of micro-influencers to promote your restaurant instead of only one or two big influencers who may demand a lot.
While restaurants occasionally hire an in-house photographer to shoot professional photos on their social media platforms. Repeatedly posting food images can get monotonous and redundant. Getting user-generated content of customers or influencers can build more trust and can be more entertaining. If you do not have access to expert photographers, you would have to depend on photographs taken with your iPhone or other ordinary cameras that are of sufficient quality to be shared on social networking accounts.
Micro-influencers are helpful because of their intimate interactions with the appropriate, loyal, hyper-targeted audiences. This type of influencer usually concentrates on a restricted range of topics, so there's a strong possibility they are experts in that field. On the other hand, most significant influencers have a diverse group of followers with a wide variety of populations and interests.
If you give influencers the creative freedom to promote your restaurant or your dishes, you would be surprised at how the posts can be entertaining to your target audience.